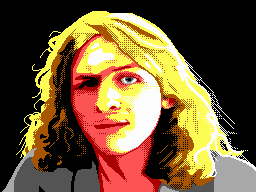 ---
The Artist
Welcome! My name is Timi.

I'm primarily a digital cartoonist, but I dabble in just about everything involving creativity. Making music, modifying videogames, constructing virtual spaces and so on.

I'm also a certified web designer, though I'm still figuring out php, JavaScript, HTML5... So pretty much all the important parts of making a website.

I've been drawing my whole life, learning by doing & getting tips from fellow artists along the way.
Please don't look up my old stuff. It's not good.


The Art
I first started really getting into drawing when I began playing around with MSPaint when I was a kid. It instilled in me an undying love of binary art, with crisp, crunchy pixels and bright, solid colors.

Stylistically, and predictably, I would say my art is most inspired by the cartoons I watched as a kid. There were a lot of European cartoons on TV in the Netherlands that outsourced their animation and character designs to Japan, so I was always exposed to a very distinct style of drawing characters, expressions and so on.

I also draw a great deal of my inspiration from the days of MS-DOS and Amiga computers, a time filled with limitations artists had to circumvent in creative ways, working through lack of color, small resolutions and weak processors with all sorts of tricks and workarounds to create beautiful things.

I'm a firm believer that less is more. There's nothing wrong with leaving things to the viewer's imagination.

The Website
This is essentially a repository for everything Me.
It is a collection of my art and my interests, an archive of things I've made over the years and a way to share experiences that might otherwise end up lost to time.

It is also one of my works of art in itself, my goal being to make something aesthetically pleasing and fun to explore.
It draws inspiration from games like Hypnospace Outlaw, interactive websites I frequented as a kid & bizarre online oddities like Yvette's Bridal Formal; Webspaces that always seem to have something to find behind every link, secret pages and little easter eggs everywhere you look.

As of right now, Timigi.com is nowhere near close to matching the goals I have in mind... But it'll get there.

I hope you enjoy exploring my website as it grows.
Leave me some feedback through my contact page!