Microsoft V-Chat Downloads
---
Avatar Wizard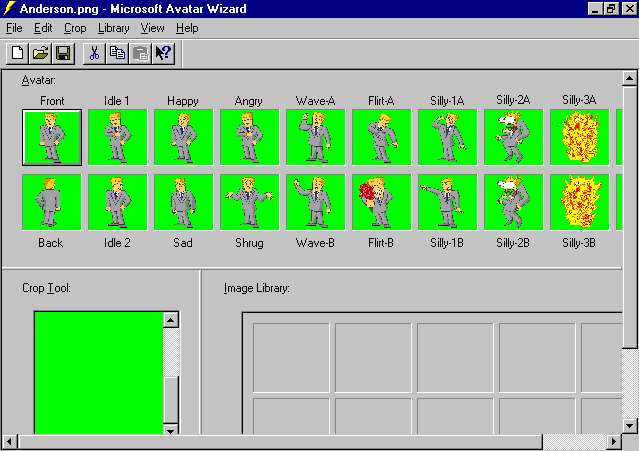 The Avatar Wizard is a tool that makes it easier to create custom avatars for Microsoft V-Chat.
While V-Chat avatars are simple .png images that could simply be edited in MSPaint, the Avatar Wizard nonetheless hosts a surprising variety of handy features, such as a preview of how your avatar will appear in V-Chat, quick and easy cropping, and support for custom palettes. It also exports to a wide range of file types.
Click Here to download Avatar Wizard
---
Microsoft Author 1.1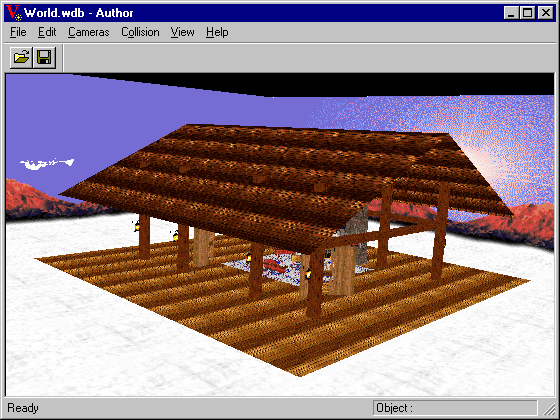 Microsoft Author is a program that can import .3ds files and view/save .wdb files for use in V-Chat.
.3ds files can be exported by any 3D editing software that supports the 3D Studio format.
(3D Studio Max is the sucessor to 3D Studio, but has very limited support for its earlier format)
Most of the program's functions seem to be greyed out, so it is most likely an unfinished early iteration and not a feature-complete editor. The fact it installs into the default folder for V-Chat 1.1 as opposed to 2.0 supports this, though I have yet to personally attempt to import a .3ds file and these greyed-out functions may be reserved for operations like that.
Dated June 30, 1997.
Click Here to download Microsoft Author
---
Legacy Downloads
---
V-Chat 1.1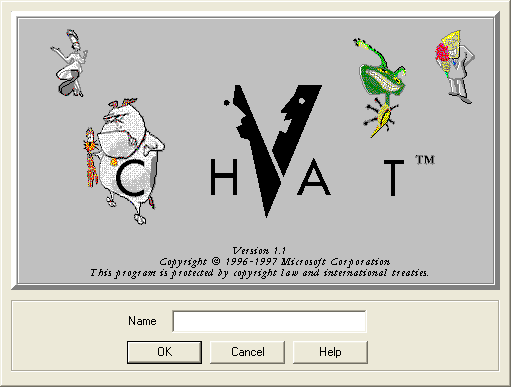 The oldest available build of V-Chat.
Unfortunately, as V-Chat 1.1 lacks any apparent offline functionality and was not capable of connecting to IRC servers like 2.0 later would be, there is no way to run the program now that the official V-Chat servers are no longer online.
Supposedly capable of viewing 2D rooms, of which only one
(Bugworld)
is known to exist.
Comes packaged with only one world:
The Compass
, the original Homespace before the current lobby world was created. Identical to
The Compass
found in "modern" V-Chat, though it notably links to another 1.1 world
(The Practice Area)
.
Click Here to download V-Chat 1.1
---
V-Chat 2b
V-Chat 2.0 Beta, Version 2.0.0172.
(for reference, the latest available version of V-Chat is 2L, Version 2.0.0220)
Compiled a year before 2.0, with the only notable differences being that it is missing the readme file that comes with the installation of 2.0, the executable is still listed as being for V-Chat 1.1, and the default Homespace has minor difference which are listed
here
.
Seems to have a lot of trouble actually connecting to any given IRC server, so support for IRC connections may not have been fully implemented at this time.
I recommend against using this client online, as repeated attempts at connecting will most likely get you banned from an IRC server.
The usual issues with using the wrong version of a program online are also present - for instance, avatar information is not displayed properly if a 2.0 user is looking at a 2b user, leaving them with the default look regardless of their intended appearance.
Click Here to download V-Chat 2b